Full Servo Adult Diaper Machine
Brand : Shunchang
Product origin : Fujian,China
Delivery time : On time delivery
Supply capacity : 60 production lines / year
Product Description
Full servo adult diaper machine with full servo automatic control system, a high degree of automation. User interface using industrial computer, user-friendly design, ready to capture the operation of information. Configurable video detection system, on-line product size detection, location detection, missing detection, stain scanning, etc.


Main Technical Data
Working Speed(Production speed)

150~220pcs/minute(M)

Working Speed(Linear web speed)

Up to 150meters/minute

Power supply

380V 50HZ, Tri-phase

Installation power capacity

320~350KW

Air consumption

4000l/mn

Qualified rate

≥98%

Product width(min~max)

600~850mm

Product length(min~max)

650~1000mm

Dimensions(L×W×H, Meters)

L: 25~33

W: 6~12

H: 3.5~4.5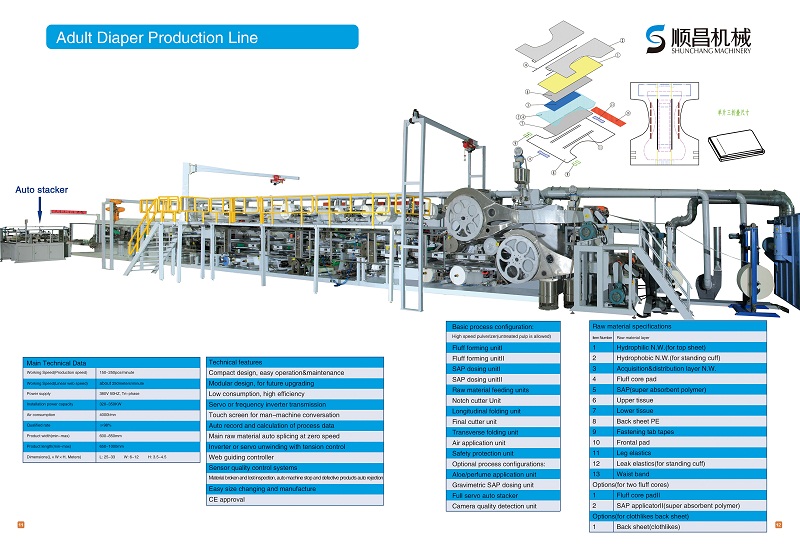 Technical features
1 Compact design, easy operation&maintenance
2 Modular design, for future upgrading
3 Low consumption, high efficiency
4 Touch screen for man-machine conversation
5 Servo or frequency inverter transmission
6 Auto record and calculation of process data
7 Main raw material auto splicing at zero speed
8 Inverter or servo unwinding with tension control
9 Material broken and lost inspection, auto machine stop and defective products auto rejection
10 Sensor quality control systems
11 Web guiding controller
12Easy size changing and manufacture
13 CE approval
Basic process configuration:
1 High speed pulverizer(untreated pulp is allowed)
2 Fluff forming unitI
3Fluff forming unitII
4 SAP dosing unitI
5 SAP dosing unitII
6Raw material feeding units
7 Notch cutter Unit
8Longitudinal folding unit
9 Final cutter unit
10Transverse folding unit
11 Air application unit
12 Safety protection unit
Optional process configurations:
1 Aloe/perfume application unit
2 Gravimetric SAP dosing unit
3 Full servo auto stacker
4Camera quality detection unit
Please feel free to give your inquiry in the form below. We will reply you in 24 hours.