Ultrasonic Diaper Machine
Brand : Shunchang
Product origin : Fujian,China
Delivery time : On time delivery
Supply capacity : 60 production lines / year
Product Description
Ultrasonic Diaper Machine Most of the parts are made of CNC machining machine, the main mechanical parts using CNC machining, the main purchased parts using the world famous. Production and processing safe and reliable.
Main Technical Data
Working Speed(Production speed)

450pcs~500pcs/minute

Working Speed(Linear web speed)

Up to 220meters/minute

Power supply

380V 50HZ, Tri-phase

Installation power capacity

220~330KW

Air consumption

1800~4800l/minute

Qualified rate

≥98%

Product width(min~max, for diaper)

260~340mm

Product length(min~max, for diaper)

320~550mm

Dimensions(L×W×H, Meters)

L: 25~30

W: 4.5~8

H: 3.5~4.5
Technical features
1 Compact design, easy operation&maintenance
2 Modular design, for future upgrading
3 Low consumption, high efficiency
4 Servo or frequency inverter transmission
5 Touch screen for man-machine conversation
6 Auto record and calculation of process data
7 Main raw material auto splicing at zero speed
8 Inverter or servo unwinding with tension control
9 Web guiding controller
10 Sensor quality control systems
11 Material broken and lost inspection, auto machine stop and defective products auto rejection
12 Easy size changing and manufacture
13 CE approval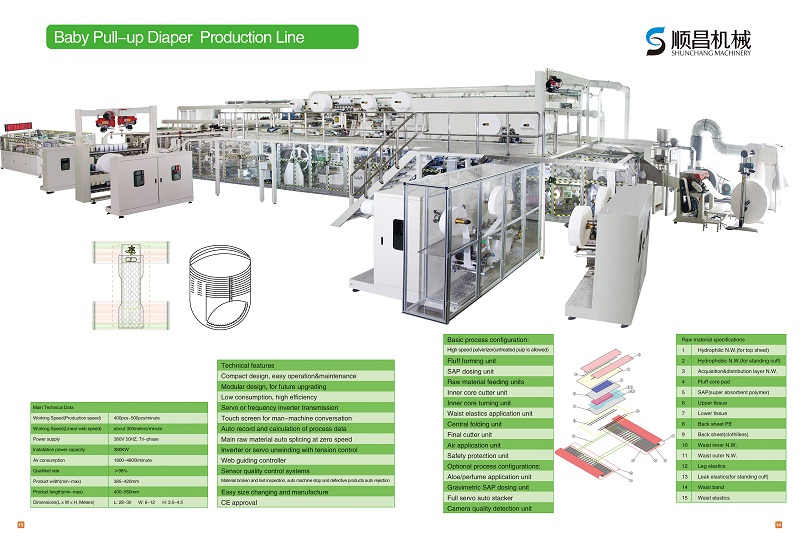 Basic process configuration:
1 High speed pulverizer(untreated pulp is allowed)
2 Fluff forming unit
3 SAP dosing unit
4 Raw material feeding units
5 Notch cutter Unit
6 Longitudinal folding unit
7 Final cutter unit
8 Transverse folding unit
9 Air application unit
10 Safety protection unit
Optional process configurations:
1 Modular design, it can be upgraded for producing rectangular back ears and front ears
2 Two fluff forming units
3 Aloe/perfume application unit
4 Gravimetric SAP dosing unit
5 Full servo auto stacker
6 Camera quality detection unit
Raw material specifications
Item Number

Raw material layer

1

Hydrophilic N.W.(for top sheet)

2

Hydrophobic N.W.(for standing cuff)

3

Acquisition&distribution layer N.W.

4

Fluff core pad

5

SAP(super absorbent polymer)

6

Upper tissue

7

Lower tissue

8

Back sheet PE

9

Back sheet(clothlikes)

10

Fastening tab tapes

11

Frontal pad

12

Leg elastics

13

Leak elastics(for standing cuff)

14

Waist band

Options(for S shaped fastening tape application)

1

Fastening tapes(with hook)

Options(for T-shaped with back ear)

1

Back ear(N.W. or Elastic)

2

Magic tape(with hook)

Options(for S T-shaped with back、Frontal ear

1

Back ear(N.W. or Elastics)

2

Magic tape(with hook)

3

Frontal ear(N.W. S cut)
Please feel free to give your inquiry in the form below. We will reply you in 24 hours.